Integrated risk management solution for SEC 15C3-5
In response to the SEC Rule 15C3-5: "Risk Management Controls for Brokers or Dealers with Market Access", Lek Securities has created an elegant and low-latency, scalable solution that incorporates the required risk management controls while meeting the demand for maximum efficiency and speed in execution. In this model, the Client System (Figure 1) is able to send orders to multiple Direct Access venues. Orders are aggregated and examined by a centralized Risk Manager System prior to being sent to the exchange. The Risk Manager contains a comprehensive set of "fat finger" checks, risk controls and compliance filters. It is complemented with a desktop Risk Manager Application (Figure 2) to allow easy monitoring.
Order Management and Performance
In essence Lek Securities acts as a conduit between the Client System and the Exchanges. Lek Securities' order management system simultaneously sends reports to the Risk-Manager allowing it to conduct a real-time credit and compliance check. This has no impact on order latency between Lek Securities and the Exchange Gateway as the reports are sent on a parallel system and do not interfere with the order pathway. This enhanced performance solution minimizes latency at an estimated 5 µs while providing true pre-trade checking. Customer requiring even less latency should inquire about Lek Securities' hardware solutions.
Risk Management Controls
Any order that violates the limit will be rejected by Lek Securities' Risk Manager System and a message with a reason will be send to the Client System. Filters are configurable and can be updated intraday. As a firm focused on offering an optimal solution, additional checks can be customized or added as per trader specifications. Risk management controls include, but are not limited to, the following:
Notional Value
Maximum Number of Orders Per Second
Net Notional Value
Maximum Dollar Amount Per Second
Maximum Loss Limit
Short Sale Check / Easy to Borrow List
Maximum Share Quantity
Portfolio Net Market Exposure Check
Per Order Notional Value
Portfolio Concentration Exposure Check
Per Order Share Quantity
Cancel Open Orders Features
Per Symbol Checks (Order/Quantity)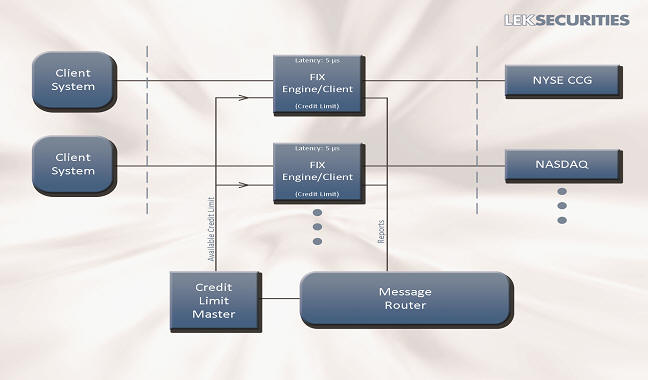 Integrated Risk Management Solution
Monitoring
To allow Managers at participating brokers and customers to monitor trading activity, Lek Securities has built a Risk Manager application that can be used to most effectively manage the portfolio's risk. This sophisticated platform displays Position Details, Notional Values, Shares Trades, Open orders vs Executed Orders, Portfolio Net Market Exposure and Concentration Exposure details.
Figure 2: Risk Manager Application
Lek Securities has dedicated resources and programmers to update this Market Access solution as the SEC rules/regulations continue to be amended and finalized. It is a flexible, sophisticated, low-latency solution that aggregates trading across multiple exchanges and provides real-time pre trade risk management controls.
For additional information please contact:
David Weiniger - Chief Risk Officer, Risk Management
help@leksecurities.com
1-212-509-2300